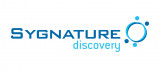 Sygnature Discovery Limited
Sygnature Discovery, founded in 2004 in Nottingham, UK, is a leading provider of integrated drug discovery services to pharmaceutical companies, biotechs and academics located in Europe and the USA. Through its unique 'federated' CRO model, Sygnature undertakes complete drug discovery programmes and hit finding, hit-to-lead and lead optimisation projects for its clients. The company employs 75 laboratory-based, industry-experienced PhD medicinal chemists, computational chemists and in vitro biologists.
Working within the highly-complex, competitive and fast-paced pharmaceutical and biotech sectors, Sygnature has developed a unique approach to offering a premium integrated drug discovery service – the delivery of in-depth, pharmaceutical industry-derived drug discovery expertise and flexible FTE-based resource housed in a 'state-of-the-art' R&D facility, but at a cost effective price. From the outset, Sygnature has operated a business whose primary focus has been value creation for its clients, through the application of drug discovery expertise, close working relationships and complete transparency.
To facilitate the delivery of top quality drug discovery services to its clients, Sygnature has strategic alliances with Cyprotex Discovery (ADME/toxicology), Saretius (pre-clinical pain/CNS and metabolic disease models), Pneumolabs (pre-clinical respiratory models), Horizon Discovery (X-ManTM isogenic cell lines), ChanTest (ion channel experts) and Proteros (X-ray protein structure analysis).
For more information, visit: www.sygnaturediscovery.com and www.integrateddrugdiscovery.com.