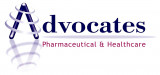 Angelina Fisher
Advocates Ltd., Pharmaceutical & Healthcare is a global Programme Management and Technical Support Organisation based in Scotland, USA and Hong Kong. Clients include universities, virtual & start-up companies, biotechs, pharmaceutical companies, healthcare organisations and investors involved in developing cures for clinical disorders on a regional basis and with a global focus.
Since 2002, it has been our mission to "accelerate the development pathway towards healthier, extended lives through our competence and capacity to address drug development challenges".
As a testament to this, our team of scientists, project managers & technical professionals have provided `hands on' technical support to 17 drug development programmes from discovery to our clients required endpoint, all of which have met their development objectives, whilst maintaining focus on delivery of commercial objectives & investment opportunities.
Discovery to Market Key Services include:
· Grant Funding Support
· Technical Due Diligence / Investor Support
· Project Management
· Discovery & Pre-Clinical Support
· Pharmaceutical Development CMC
· Quality Management
· Regulatory Preparation, Submission & Liaison
· Operational / Commercial CMC
· Supplies / Logistics Management
· Clinical Support
· Medical Devices Expertise
Benefits to our Clients:
· Proven expertise of successfully managing development programmes
· Experienced in all compound classes, the majority of therapeutic areas and routes of administration
· Experts in CMC (Chemistry, Manufacturing & Controls)
· Credible relationships with national regulatory agencies
· Trustworthy relationships with funding bodies
· Bases in UK, USA & HK / trade in local currencies
· We care "caring is a powerful business advantage"
If you would like to discuss any aspect of your drug development needs please email:
Angelina Fisher at: a.fisher@advocates.ltd.uk, alternatively, please call +44 (0) 7929 671290.

Advocates Pharmaceutical & Healthcare
Director of Corporate Affairs